Posted by Christopher T. on 9th Aug 2022
After receiving thousands of calls from customers across the United States, we discovered that there is a lot of confusion about what a fireplace insert actually is and what type of installation is required. You can call and search for gas fireplaces when you really need one. And vice versa.
WHAT IS A FIREPLACE INSERT?
A insert fireplace can basically be defined as a wood (or gas) stove without legs. Designed to fit into an existing chimney, the insert consists of a metal box that is "inserted" into the chimney opening and finished with a decorative surround to create a seamless look.
A unique stainless steel chimney liner is installed through the chimney and secured to the liner to ensure proper clearance from combustibles and safely discharge combustion by-products out of the home.
The wood stove uses a closed combustion system like a wood stove and is separated from the living area by an insulated glass front (gas) or an airtight door (wood firing).
This makes the fire burn slower, effectively producing more heat, reducing emissions, increasing heating efficiency and heat output.
When installing a fireplace in your home for the first time, you will need a fireplace, not a liner. The finished project may look like the fireplace is "inserted" into the wall, but that's simply because the frame was built around the fireplace.
If you want to refurbish an existing fireplace and keep the original structure, you need an insert.
FUEL TYPES
fireplace inserts are available for wood, gas, electric and pellet fuels.
WOOD BURNING FIREPLACE INSERTS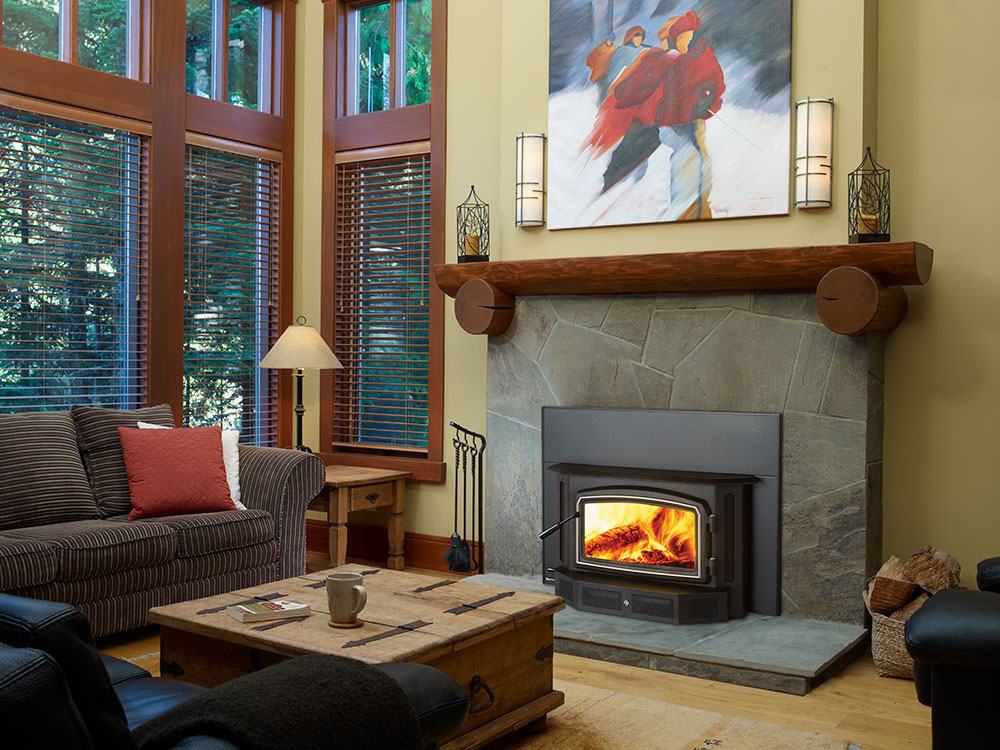 If you need to overhaul your existing wood-burning fireplace, but don't want to invest the time or money in a complete renovation, the wood-burning fireplace insert is the perfect solution.
The wood insert dramatically improves heat output and reduces harmful by-products and emissions while preserving the look, feel and ambiance of your wood fire. Most models are EPA certified to meet Environmental Protection Agency standards of 60-80% fuel efficiency.
Airtight doors keep smoke out of your home and extend fire life up to 5 hours Because more heat is retained in the firebox, wood-burning inserts require an insulated chimney liner to keep the chimney warm enough to maintain a strong and efficient draft.
GAS FIREPLACE INSERTS
Fireplace Inserts are an effective way to update your fireplace while increasing heat output and reducing your carbon footprint.
Compatible with natural gas and liquid propane fuels and available in direct vented or non-vented configurations.
Gas line must be connected to existing firebox. A power supply is also required if the insert is fitted with a blower, fan, or electronic igniter. gas inserts can be controlled with a handheld remote or wall switch, some with thermostat controls and timers.
ELECTRIC FIREPLACE INSERT
Electric fireplaces are the most eco-friendly and cost-effective option because they burn no fuel, produce no emissions or harmful by-products, and require no aeration.
Installation is very easy as most plugs fit into standard 120 volt outlets. The electric insert features state-of-the-art multi-color LED lighting indicators, adjustable flames, optional heat output, and a choice of lifelike log or state-of-the-art fire glass media.
A great option when regulations prohibit the installation of conventional wood or gas inserts, or when the cost of refurbishing an old fireplace is prohibitive.